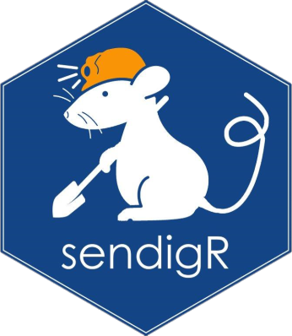 Introduction to sendigR
2022-08-29
Source:
vignettes/Introduction.Rmd
Introduction.Rmd
The purpose of the sendigR package is to extract data from a set of nonclinical studies stored in CDISC SEND format in a database to be used for cross study analysis. It can either be done in a script by execution of a set of functions from the package to extract data for further processing or by execution an encapsulated R Shiny application.
The package supports currently these types of databases:
SQLite It's possible to access an existing SEND database or build a database with SEND data imported from SAS transport/xpt files, which then can be accessed.
Oracle It's possible to access an already existing SEND database
This vignettes introduces how to use sendigR to:
initiate the use of the functions.
build and maintain a SQLite database of SEND data.
filter and extract SEND data from a database.
execute the R Shiny application to browse the SEND control data stored in the database.
Familiarity with the CDISC SEND data model and at least basic knowledge about animal studies is necessary to follow this vignette and to use the package.
Getting started
Before we are ready to use the functions in the package, we must ensure that a minimum of prerequisites are fulfilled.